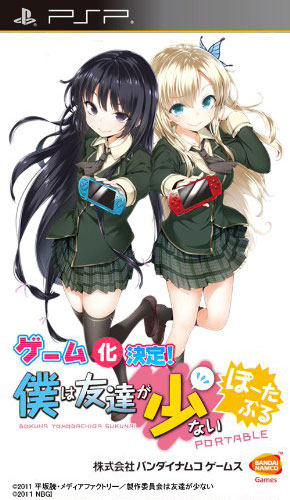 Boku Wa Tomodachi Ga Sukunai Portable is a visual novel game published by Bandai Namco Games. It was released on February 23, 2012 in Japan. There is a limited edition version of the game called Boku wa Tomodachi ga Sukunai Portable - Limited Edition Super Unlucky Box. A strategy guide book was also released for this game.
The Neighbor's Club decide to host a summer training camp on a private, tropical island owned by the Kashiwazaki family as part of their club activities. The island is a southern island. The game revolves around Kodaka and the interactions with his fellow club-mates as results of his (the player's) decisions.
Game Play
Edit
It is played as a visual novel. Meaning the player doesn't necessarily take control of anything or anyone.
Limited Edition Version
Edit
Boku wa Tomodachi ga Sukunai Portable - Limited Edition Super Unlucky Box
Edit
This ultimate limited edition box comes with tons of special features, like a 100-page artbook/guide, a DVD with exclusive contents, 3 beautiful art cards, a download code for a custom PSP theme, and even a copy of Sena's favorite eroge, Kirameki School Life SP - The Wonder Years which is another visual novel game.
Game Info
Edit
Game Developer : Namco Bandai Games & Guyzware
Game Publisher : Namco Bandai Games
Genre : Visual Novel
Platform : Sony PSP
Region : JP
Release date : 23 February, 2012
Medium : 1UMD
Language : Japanese
For Ages : 15+
References

Edit
Ad blocker interference detected!
Wikia is a free-to-use site that makes money from advertising. We have a modified experience for viewers using ad blockers

Wikia is not accessible if you've made further modifications. Remove the custom ad blocker rule(s) and the page will load as expected.