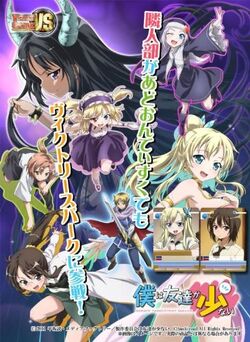 The Boku wa Tomodachi ga Sukunai Victory Spark Trading Card Game is, as its name implies, a trading card game based on the Haganai anime series. The first set released mid-November of 2011. There are currently three different sets that have been released thus far. The Trial + Supply set, the Haganai set, and the Haganai NEXT set. Its product line is Victory Spark and its maker is Bushiroad.
Trial + Supply Set
Edit
50 card pre-constructed deck
60 specially made card sleeves
1 specially made card holder
1 Quick Manual
Deck Instructions
Play Book
1 Specially made Play Mat
Special Edition Victory Spark cards were released alongside all twelve Japanese Haganai anime sets.